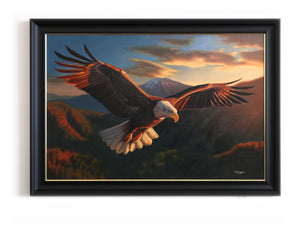 "FREEDOM" Original Artwork
Regular price $3,422.00 Sale
Artwork
This is the ORIGINAL PAINTING of an American Eagle flying during Golden Hour by Kirsten Mirrey.
Size
Oil Painting on 24" x 36" Stetched Canvas, Framed in a 65mm (2.5" wide moulding) 
Total outside size including frame = 29" x 41"
Story
An American Bald Eagle, chosen as a symbol of the Strength and Freedom of America. Landing on the title "Freedom" seemed like a cliche choice at first for me, but there's just not a word that truly captures this animal more.
High in the air, not constrained by time or money, this creature roams the sky with grace and enormous intellect seeking it's prey during the low light, high visibility hour of the day - Golden Hour.
What's included
Original Painting including Framing, Worldwide Shipping and Shipping Insurance
Documents of Authenticity and Care Guide
Early access to all future releases of Kirsten's work 
Returns, Shipping and other information
UK shipping with Parcelforce/Royal Mail.
Worldwide shipping provided by UPS.
This item is shipped from Scotland, UK. Import duties to other countries are the responsibility of the buyer.
Due to the limited nature of this item there will be no cash refunds available on this product, the only available option is credit towards another artwork only with the shipping return paid by the customer. If the item is damaged, a full refund will be given via the original payment method and collection for the damaged artwork arranged. Damage MUST be reported within 4 working days of delivery with photo evidence.
Copyright remains with the artist even after sale. Unauthorized copies may not be reproduced of this artwork.