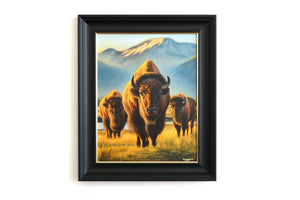 "TATONKA" Original Artwork
Regular price $1,114.00 Sale
Artwork
This is the ORIGINAL PAINTING of 3 bison in Yellowstone National Park by Kirsten Mirrey.
Size
Oil Painting on 14" x 18" Board, Framed in a 65mm (2.5" wide moulding) 
Total outside size including frame = 19" x 23"
Story
"Tatonka" has been a painting I've had in my mind for a very long time. Learning about Bison as an Icon in American History, these animals once roamed North America in the tens of millions. Being in such abundance these animals were a critical part of Native American's culture with each part of the bison providing something for their way of life.
After dwindling numbers beginning in the 19th century, more recently populations have been re introduced using conservation management. I wanted to showcase these 3 bison standing strong as "Guardian's of the park" almost.
"Tatonka - the lakota word for buffalo" 
"The buffalo is a symbol of self-sacrifice; it gives until there is nothing left. This was imitated by the people in their lives. To be generous and give what you have to others in need, or to honor them, is one of the most highly respected ways of behaving."
Ron Zeilinger "Lakota Life"
What's included
Original Painting including Framing, Worldwide Shipping and Shipping Insurance
Documents of Authenticity and Care Guide
Early access to all future releases of Kirsten's work 
Returns, Shipping and other information
UK shipping with Parcelforce/Royal Mail.
Worldwide shipping provided by UPS.
This item is shipped from Scotland, UK. Import duties to other countries are the responsibility of the buyer


Due to the limited nature of this item there will be no cash refunds available on this product, the only available option is credit towards another artwork only with the shipping return paid by the customer. If the item is damaged, a full refund will be given via the original payment method and collection for the damaged artwork arranged. Damage MUST be reported within 4 working days of delivery with photo evidence.
Copyright remains with the artist even after sale. Unauthorized copies may not be reproduced of this artwork.